This event is ended, thanks for your participation.
Congrats to these 5 otaQoos for winning the Steam Key of "Paper Bride 4 Bound Love"!
Please go to "ACCOUNT" → "Notification" to receive your Steam Key
[Winners]‌
(53225849) Nam Thành
(39951592) WOLVERINE
(36198519) Sheira
(67660657) DarkGemini
(15179493) Justin MMOs
-------------------------------
"Paper Bride 4 Bound Love" mobile will be available in QooApp on May 19th, we are giving away the steam keys so you can prepare yourself for what's coming✨
Answer the question "Who will you resend a creepy online wedding invite to?" in the comment section of the designated news, and get a chance to win the STEAM KEY (5 keys in total), will announce the 5 lucky winners after 5/12)!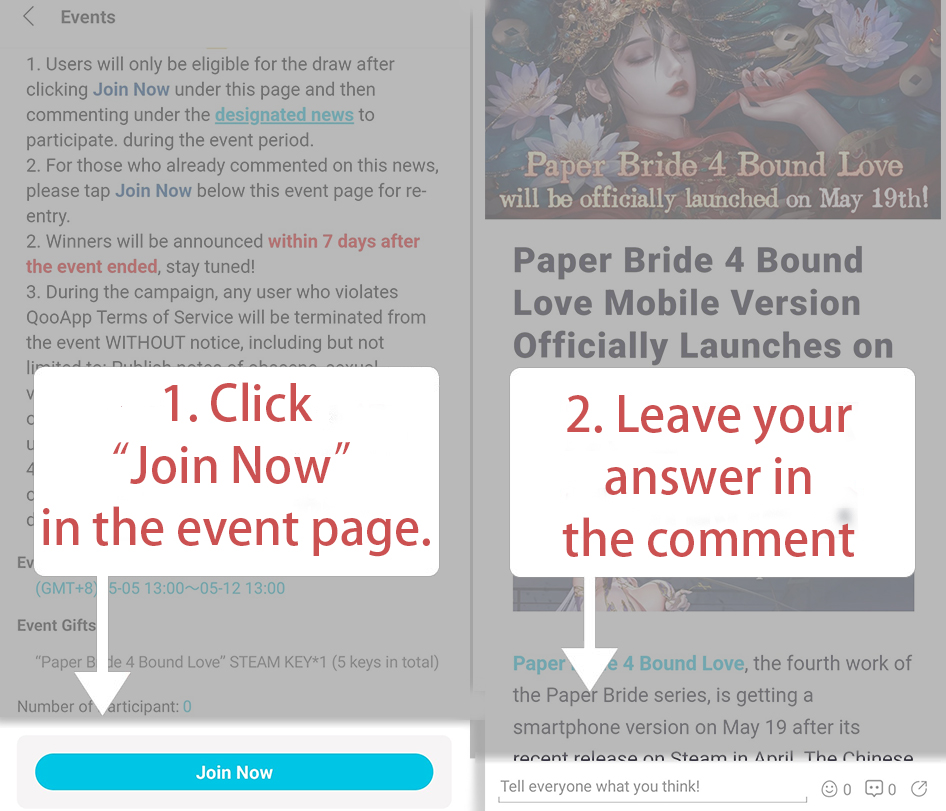 ▲Steps
▍Terms & Conditions⚠️
1. Users will only be eligible for the draw after clicking Join Now under this page and then commenting under the designated news to participate. during the event period.
2. For those who already commented on this news, please tap Join Now below this event page for re-entry.
2. Winners will be announced within 7 days after the event ended, stay tuned!
3. During the campaign, any user who violates QooApp Terms of Service will be terminated from the event WITHOUT notice, including but not limited to: Publish notes of obscene, sexual, violent, religious, political, racial, inciting, offensive or discrimination contents, etc that cause unpleasant vibes to the community.
4.QooApp reserves the final rights to assign changes and explanations for this event as it deems necessary.